Multiple Images Per Page
From XnView Wiki
Sometimes you may want to print a specific image several times on one page, such as a passport photo. XnView does not provide this function specifically, but you can be resourceful and clever to create/print a page like this: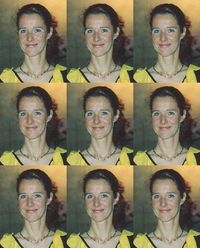 Here are the steps:
Make two copies of your passport photo or other original image. You can use MS Explorer or XnView to copy the file.
[1]
Then use Create > Strip of Images to merge your original and the two copies horizontally. The resulting image will look like this:
[1] + [1] + [1]
Save the resulting image. Since you want to keep good quality, you should save in a lossless format such as PNG or BMP. The resulting image might be large, but you will delete it later, after printing.
Make two copies of the image that you have just created and saved in the previous step. Again, you can use XnView or MS Explorer for this.
Again use Create > Strip of Images to merge the three images together, this time vertically.
[1][1][1]
+
[1][1][1]
+
[1][1][1]
Print and/or save your result. When saving, you can use a lossy format like JPEG.
Delete the interim files created in these steps.