With XnView SmartPhone You can easily visualize your images and photos on your SmartPhone. Thanks to these many tools of final improvement you can correct your photos, share them with your friends and your family. or even create widely compatible slideshows.
Features
---
View
XnView SmartPhone allows you to visualize your images and their characteristics in a very intuitive way. With XnView SmartPhone you can :
Displaying in 5 modes : Thumbnail, list, detail, filmstrip et full screen.
Displaying images in different formats : jpeg / jfif, gif, bmp, png, 2bp, tif, pcx, pbm, pgm, ppm, pnm, xbm, xpm, tga, ico.
Writing images in jpeg, gif, bmp, tga and png formats.
Using multiple factors of zoom, or automatic adaptation of the images size to the screen size.
Using the favorites to simplify and accelerate the navigation through files.
Displaying informations, exifs and iptc images.
Edit
Correct and Retouch your photos using the many tools of XnView SmartPhone:
Crop directly with the stylus.
Brightness, contrast, gamma and RGB adjustment.
Rotation of the images in all directions, and JPEG lossless rotation.
Sharpness adjustment.
Reduction of noise.
Organize
XnView SmartPhone allows you to classify simply and effectively your images and photos.
Images sorting on the name, the date, the type, the size and the definition, the whole in ascending or decreasing order.
Images conversion between different supported formats.
Images resizing according to different factors, sizes, and possibility to resizing to the screen size in order to obtain the best ratio weight/clearness.
Simple or multiple images selection, as in a PC software.
Screen capture.
IPTC editing
Search
Association of images types possible and modifiable with XnView SmartPhone.
Share
XnView SmartPhone also has a slide show mode with adjustment of time between the slides, of the background color:
Slide Show creation in exe format, archievable in an autonomous way (if for example you give your Slide Show to a user who don't have XnView SmartPhone).
Images sending by email with change of size and format possible.
Images sending by Irda.
Downloads
---
Download XnView SmartPhone 1.10
Donate
XnView SmartPhone is provided as FREEWARE (NO Adware, NO Spyware)
If you enjoy using XnView SmartPhone, Don't hesitate to help the developer with a small donation.
Screenshots
---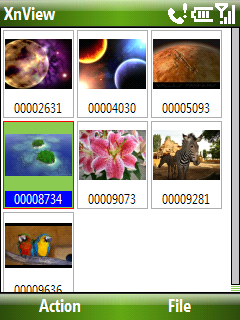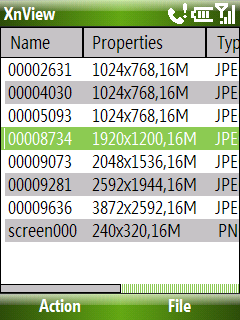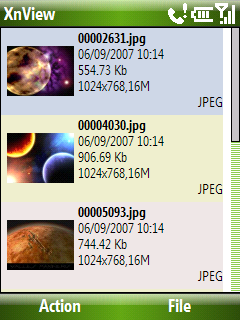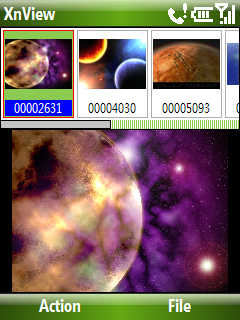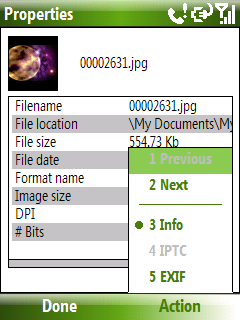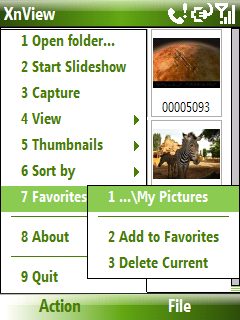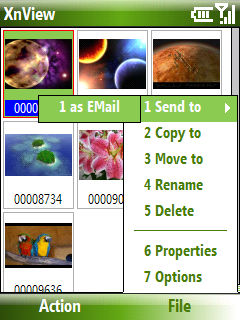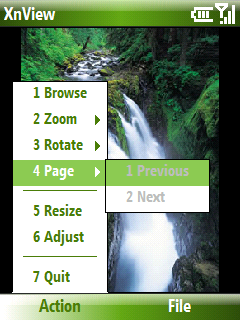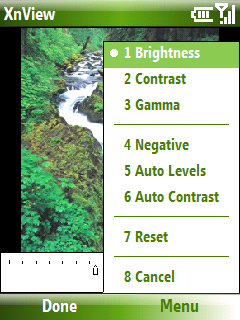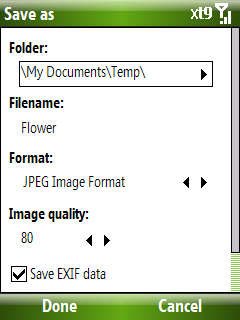 Changelog
---
Problem to choose folder on smartphone 2003
Negative, auto levels added
german & spanish added
capture added
sort fixed
Wating cursor sometimes stays
Favorites added
Info EXIF/IPTC fixed
Support
---
Visit the Forum
The XnView SmartPhone forum is probably the best place to start interacting with other XnView users and XnView developper.