Contact Sheet
From XnView Wiki
The function creating Contact Sheet works similar to Create Web Page... and will create as a new image containing the thumbnails. The contact sheet can be edited and saved as required. Here is an example of a Contact Sheet: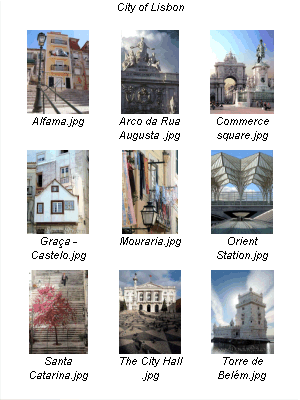 How To Create a Contact Sheet of your Images
Go to the directory containing the image files.

Select the images you want to create a contact sheet for.

Select the menu item Create > Contact Sheet... or the symbol from the toolbar. The Create Contact Sheet dialog is displayed:

In the Create Contact Sheet dialog, input the desired size and margin (in pixel) in the Dimensions panel.

Create the contact sheet by pressing the Create button. The contact sheet is displayed by XnView and you now can save the Contact Sheet using the menu item File > Save or the toolbar symbol.

Tips
If you are not happy with the contact sheet created, repeat the above steps with other input values. E.g. if the thumbnails on the contact sheet are too small, you increase the dimension or you reduce the number of columns and rows.
It makes sense to use your screen's resolution as dimensions. Typical sizes are 800x600 or 1024x768 pixels.
The default image format for contact sheets is BMP, which creates very large image files. For this reason select another format, e.g. JPG or GIF.